Programme
FIM Quality Products
Discover our FIM Quality Product Programme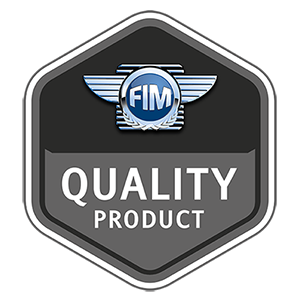 To satisfy the needs of the industry and manufacturers' requests, the FIM is pleased to announce the introduction of the new programme named FIM Quality Product. This trademark licensing programme is a great opportunity for the industry stakeholders to associate their products with a FIM trademark licensed to products complying with recognized quality international standards of the related industry.
The FIM International Technical Commission will assess the manufacturer's product applying for the programme, taking into account any accreditation, certification or quality recognition previously obtained, as well as its compliance with reliable international industry standards.
Legal notice: The FIM Quality Product trademark license does not grant the manufacturer any right, recognition, approval or certification in relation with the FIM Racing Homologation Programme or the eligibility of the product for the FIM World Championships, which require a higher level of evaluation and compliance with specific technical rules of the FIM Regulations.
As the FIM is not involved in any way with the manufacturing of the Products, it shall not be liable for any damage caused by the manufacturer's product granted with the FIM Quality Product trademark. The FIM shall not be liable for any consequences deriving from the use of the manufacturer's product, nor for any defects it may have or its non-compliance with applicable laws.
For any question concerning the FIM Quality Product trademark license, feel free to contact:
Mr Fabio Muner, FIM Marketing & Communication Director fabio.muner@fim.ch
Mr Adrien Lerousseau, FIM Marketing Coordinator adrien.lerousseau@fim.ch
GB Racing
Engine Protections

106-108 Lancaster Road
New Barnet, Hertfordshire EN4 8AL
United Kingdom

Tel: +44 20 8275 2630
Fax: +44 20 8275 2631
Email: store@gbracing.eu
Website: www.GBRacing.eu